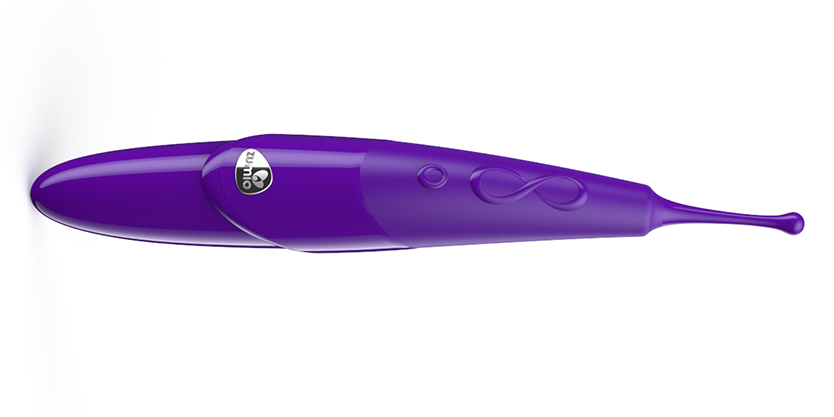 Award winning European distributor Eropartner Distribution is supporting Eroticon for the first time in 2018. Eropartner Distribution was created to support retail businesses selling products that enhance people's intimate relationships and encourage informed sexual exploration. They offer state of the art order processing, international and nationwide shipping and can handle orders of all sizes from large containers to one or two items as needed.
Eropartner Distribution will show at Eroticon the award-winning Zumio – a clitoral stimulator.
The idea for Zumio was born out of frustration when a busy single mother with several children and limited spare time wanted a way to achieve orgasm effectively and quietly. The toys she tried used irritating vibration and didn't allow her to effectively pinpoint specific sensory areas. In the absence of an effective toy, she was relegated to using her fingertip for manual masturbation. She reached out to Zumio to see if there was some way to take the tried and true circular fingertip motion to a new level. This required rethinking the method of action and resulted in the development of our patented, SpiroTip®, oscillation technology. Zumio delivers a deep, different and core-shaking orgasm!
If you are a sex blogger, reviewer or writer and you'd like to get in touch with us about reviewing our products, please email us: pr@eropartner.com.

For more information you can visit our website and follow us on  Twitter, Instagram and Facebook.

Zumio on Eroticon
Veronica Farmer, Chief Experience Officer of Zumio said, "Being part of Eroticon is important to us as we venture deeper into the global marketplace. We have been nurturing a very organic and grassroots brand awareness through providing bloggers with Zumios for reviews. We've had overwhelming positive responses to the Zumio experience. And, we understand the uniqueness of the product requires some explanation at first to comprehend, but once you try it – you will get it! Many of Zumio's bloggers are believers and advocates for Zumio. For Zumio, bloggers are an important community of influencers that we want to engage with and listen to."
"In 2018 we will launch more versions of Zumio to the global marketplace. We would like to share new versions and ideas with this powerful and influential community to get feedback and inputs for improvement," she added.