Ruby Glow designer, Tabitha Rayne says; I'm delighted to be sponsoring Eroticon with Rocks Off and my award winning sex toy, Ruby Glow , for the second year running.
Ruby Glow is a hands-free ride on vibrator that I invented to relieve my
own sexual tension while writing erotic stories. The design evolved when I
realised other women might find it useful, especially those with reduced
mobility or chronic pain who can't use traditional sex toys.
Ruby Glow came into existence because of the encouragement I had from
friends that I made at the very first Eroticon I attended back in 2013. We
went on to form the Brit Babes and they were the perfect ladies to test my
handmade prototypes. It was a dream come true when Rocks Off saw the
potential in the design and took it on as part of their range. Bloggers and
reviewers have been really enthusiastic and I'm so grateful for the support
and help to spread the word about this toy.
Sponsoring Eroticon feels like a homecoming for Ruby Glow! I'm so excited
to be back among the erotica and sex writing community again and am looking
forward to meeting even more writers and bloggers.
This year I'll also be showcasing some fabulous new products from Rocks Off
so come along to my stand for a chat and get
your hands on some new products!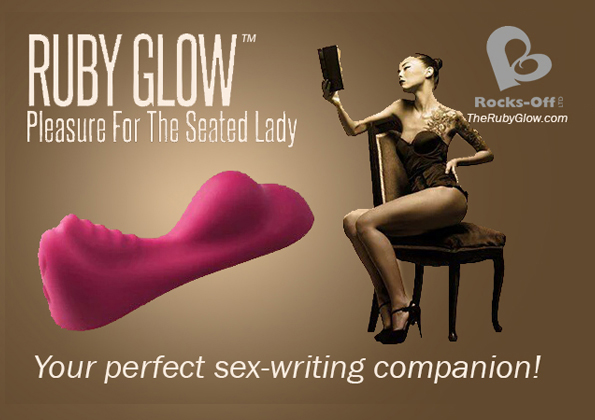 The Ruby Glow, designed by Tabitha Rayne and made by Rocks Off, has had an amazing year – coming second in the Good Housekeeping annual vibrator reviews, being nominated for an ETO Award, winning a Sign Magazine Award for Most Innovative New Toy 2016, and gaining a host of wonderful reviews from sex toy bloggers and reviewers.
Ruby Glow is a saddle-style, non-penetrative clitoral vibrator which can be used even when fully clothed. Shopping online, working from home, and reading (or writing!) erotica are re-imagined when riding the Ruby Glow. It is designed to sit firmly against your clitoris, pubic bone and vagina at the same time, which can provide mesmerizing stimulation. The Ruby Glow is ideal for anyone who works from home, or has mobility issues.
Dual-action vibrations are controlled by buttons at the front for easy access, putting you in control of your orgasm. There are 10 speeds and pulsations for each motor which offer a multitude of scintillating combinations for you to experience. It is made from firm yet velvety silicone, which has little drag on your skin so you can rock forwards and backwards, or grind into it with pleasure.
You can use it while fully clothed, or on bare skin due to its platinum body-safe silicone design.
Ruby Glow can fuel your fantasies as you find your pleasure hands free.
Orgasms for all!