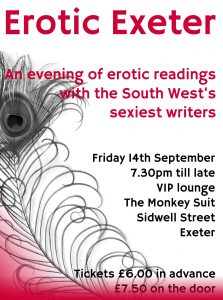 Last Friday was the first of the Write Sex Right regional events.
Erotic Exeter was a fantastic night with readings from M K Elliott, Kay Jaybee and Ruby Kiddell.
MK read Three's Not a Crowd from her anthology Rescued
 and gave us a tempting treat Make Me Yours which is in her soon to be published anthology, The Little Book of Kink.
Kay from her themed anthology The Collector
and from her BDSM novel The Perfect Submissive
.
Ruby read from her soon to be re-released novella Normal and shared the 100 word micro fiction that inspired her current work in progress Performance.
As well as the writers one of the audience was brave enough to share their favourite short story from The Collector, let's just say none of us will look at magic space dust sweets in the same way again.
Along with the readings we had lots of fun with the prize draw, with books from Xcite and the Honey Blossom vibrator and a glow in the dark vibrator kindly donated by Sex-Sitement.co.uk
Sex Sitement.co.uk are a new sex toy seller based in the South West; they are a small, family run website that provides sex toys including a wide range of vibrators, dildos and bondage accessories. Along with toys the company stocks hen and stag night accessories, fantasy wear and everything you need for a romantic or sexy night at home or away. They've friendly customer service and discreet and prompt delivery.
Thank you to everyone that came along to read or listen and thanks to Sex-Sitement.co.uk for their generosity.