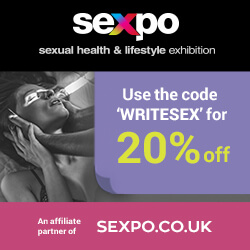 2015 is an exciting year for adult lifestyle events as two new events hit the market. After the well received Sexhibiton in Manchester, which from reviews seems to have catered more for the fetish market, Sexpo is opening in London for the 13th – 15th November.
I'm particularly excited because I'm working with the Sexpo team to manage the seminars and author areas. It is quite the challenge and a lot of fun to apply my experience to a wider audience.
AS a Write Sex Right reader you can get 20% off your ticket price with code WRITESEX at the checkout when buying your ticket. Clickety click here to buy your ticket.
The other big news is that Eroticon Academy launched at the beginning of October and there are classes available every month through to February. I am incredibly excited about Eroticon Academy as it allows Eroticon to reach out to many more people who can't attend the live events due to geography, time or finances.
There will be new workshops every month which you can register for on a workshop by workshop basis or you can join with a monthly membership paid either monthly or annually.
To go with Eroticon Academy I am slowly increasing the regular contributors to Write Sex Right too and am thrilled to have both Tamsin Flowers and Girl on the Net confirmed as monthly columnists.
For those of you waiting for Eroticon Live news, the dates are set for 20th-22nd May 206. Save the date!