Would you like to win a ticket to Eroticon 2017?
Are you a writery type?
Yes?
Well this is your chance. Sinful Press is running a competition on their site for a weekend delegate ticket to Eroticon 2017 worth £170*
Sinful Press is an independent erotic fiction publisher owned and managed by Lisa Jenkins who is herself both an experienced editor and author. They are a fairly new and exciting entity in the erotic publishing genre but they are already making their mark in the industry publishing some well known authors such as Janine Ashbless.They are publishing novels in both print and digital formats. Lisa is committed to working with her authors to give them the best publishing experience possible.
We are delighted that Sinful Press is supporting Eroticon 2017 and is offering this fabulous opportunity for someone to win a ticket to the event. Working with Lisa on this project has been a lot of fun and we are all really excited to see what fabulous tales the prompt inspires in people. As Lisa says in her post don't worry if you are not a professional author, this competition is open to everyone, the important thing is to be creative and have fun.
To find out exactly what you have to do to be in with a chance of winning then head over to Sinful Press for all the juicy bits; Eroticon Competition. You have until the 25th of November at 11pm GMT to get your entries in so put pen to paper, fingers to keyboard and get writing.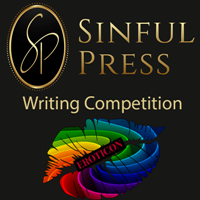 *Terms and conditions apply. See the post on Sinful Press for full details.
Grab the badge code here
Author, Blogger, Photographer, Speaker. Director of Operations for Eroticon