Today we're excited to announce that the Eroticon 2017 anthology is available for pre-order! Not only that, but it's available at a super-discount price of 99p (or 99c if you're in the US) for a short time!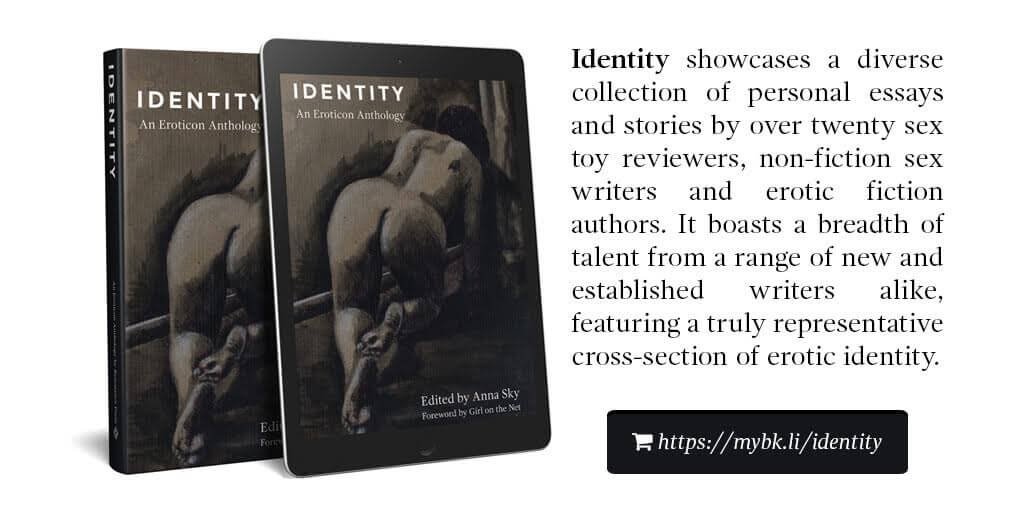 Identity showcases a diverse collection of personal essays and stories by over twenty sex toy reviewers, non-fiction sex writers and erotic fiction authors. It boasts a breadth of talent from a range of new and established writers alike, all of whom are attendees of the 2017 Eroticon conference in London. It's a sex-positive anthology, moving from the heteronormative to show a truly representative cross-section of erotic identity.
In this unique compilation, the central theme of identity is explored from many different angles. Some authors describe their personal identity as a writer, others how their fictional characters explore who they are through sex. Yet other writers examine the impact of erotic identity, sexuality or personality and how this is celebrated or for some, must remain hidden.
Identity tackles intimate topics such as BDSM, bisexuality and gender dysphoria with an honesty and clarity borne of experience, as well as stories of desire, erotic awakening and more.
Edited by Anna Sky and with cover art by Tabitha Rayne, Identity contains work by Velvl Ryder, Malin James, Eve Ray, Marie Rebelle, Meg-John Barker, Teresa Caves, sub-Bee, Emily Jacob, Jenny Guérin, Ella Scandal, Alun Norley, Ina Morata, Jerusalem "Jaime" Mortimer, Miss Ruby Rousson, cleareyedgirl, Heather Day, The Other Livvy, Zak Jane Keir, F.F. Sexton, Zoë King, Charlie Powell, BibulousOne, Emmeline Peaches and Girl on the Net.
Eroticon anthology – buy, share, and support our writers!
One of the reasons we're excited to bring this to you is because we know there are lots of people who want to take part in Eroticon – or start their own sex blogs – but who are often nervous about taking the first step. The anthology is a nice teaser for the conference itself – showing the breadth of styles and quality of the incredible writing produced by attendees and speakers.
For some of our writers, its their first step into getting their work published (and start earning money from it). For more established writers, it's a platform to showcase what they do and who they are. And for us as conference organisers, it's a shop window – we're keenly hoping that people who buy and love the anthology this year might be tempted to join us in person at Eroticon 2018.
So huge thank you to Anna Sky from Resonance Press, who has edited this fantastic book (and who will be running a workshop at Eroticon on getting your work into print!), and to all the incredibly talented writers who have contributed. Thanks also to Victoria Blisse from Smut UK, who will be running the book stall at Eroticon where you should be able to pick up physical copies of the book. If you'd like to take advantage of the bargain introductory price, pre-order your copy in the next few days!