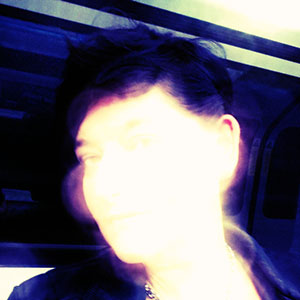 As part of a series of blogs to promote Eroticon speakers, today we're chatting to Anna Sky. Anna Sky is the brains behind Sexy Little Pages, a small UK erotica press and its non-fiction sibling, Resonance Press which publishes (among other things!) the Eroticon anthology.
Anna's own experience of CFS led her to create a publishing venture reflecting the diversity she felt was missing in mainstream erotica. The stories she publishes sit outside of the heternorm, showing the full spectrum of age, sexuality, gender, ability and desires. Since setting up Sexy Little Pages, Anna has likely read about a million words in the sex and erotica genres, and enjoyed every second of it. She's also (in no particular order) a geek, red wine drinker, poi hurler, CFS spoonie, Firefly fan and has a very dirty laugh!
What inspired you to start working in your field?
Eroticon! I first attended as a very shy, newbie erotica writer and found so much support and advice that I went away truly inspired. It gave me the confidence to start submitting my work to publishers and from there, I signed some great and some not-quite-so-great contracts. Equally, I wanted to see more diversity in publishing: gender, size, ability etc… without it being fetishised or used as a plot device.
After a quiet word with a few friends I'd made through events such as Eroticon, I realised that I'd better walk the walk and so Sexy Little Pages was born. The support I've had, from authors and editors alike, has been phenomenal and I'm really proud of the anthologies that I've been privileged enough to publish. I've had to step back a little in the second half of 2017 due to huge personal changes, but that doesn't mean there's not exciting things in the pipeline for 2018.
If you could give one piece of advice to aspiring sex writers, what would it be?
Just do it and don't let nerves or 'imposter syndrome' hold you back, we've all been there! Look at other people are doing and develop your own voice, attend events and be part of the community… as Girl on the Net so famously said at the last Eroticon, "No One Does What You Do Quite Like You".
The way we talk about sex and relationships has changed a lot over the last decade – what changes do you hope to see in the next 10 years?
This is more of a wishlist for the future rather than what I think will happen, as the UK and US are definitely taking huge steps back rather than forward at the moment, with issues such as female agency, the Digital Economy Bill and expression of sexuality, but I'd like to see:
Better sex education – people being taught what consent means, that women like sex too, that sex is not just for procreation and isn't just PIV.
An end to people being shamed for their sexuality, kinks or desires.
A lift of the restrictions on acts that are currently banned in porn and the written word, even though they're legal to perform.
And after joining a 'Reclaim the Night' march recently, for anybody, however they identify, to feel safe in their own skin.
And from a publishing and writer perspective, romance and erotica are the biggest selling book categories yet we're constantly derided, our books hidden, arbitrary rules applied to whether we show up in searches or not, legal expressions of sexuality banned. People read to identify with other people, to find their 'tribe', to understand they're not alone, to explore their fantasies vicariously, to connect with other human beings and these crazy stifled notions of sexuality imposed by retailers/payment providers is quite simply harmful, regressive and needs to change.
Anna Sky's Eroticon talk: Self-editing tips and tricks
Anna's talk will give an overview of the key things you need to know before self-editing your work. She'll cover:

Advantages of self-editing
Limits of self-editing
Basics – e.g. spelling and grammar
Advanced – e.g. point of view/head-hopping, adverbs, sentence length variation
Method – keeping it simple, looking at it in 'layers'
Tools – free tools to help catch issues, along with their pros and cons

At the end of the session there'll be an open discussion and forum for questions, with the aim of creating shared resources to put in the Eroticon forum afterwards.
Come and listen to Anna's talk at Eroticon 2018, and see all the Eroticon 2018 speakers on this page.