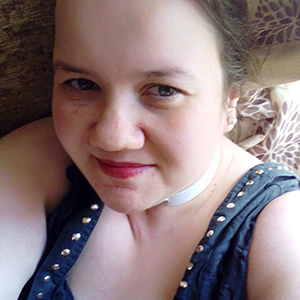 As part of our intro blogs for Eroticon 2018 speakers, today we're chatting to Victoria Blisse! If you were at Eroticon last year, you may have met her at the book stall, selling incredible erotic work from talented authors, including our Eroticon anthology! Victoria is a Mother, Wife, Christian, Reverend, Manchester United Fan and Award Winning Erotica Author and all round Cheeky Wench. She is also the editor of several Bigger Briefs collections, and the co-editor of the fabulous Smut Anthologies. She is the mistress of Smut UK putting on Smut Events, Days & Evenings dedicated to erotica, socializing, fun and prizes. Born near Manchester, England, her northern English quirkiness shows through in all of her stories along with her own particular brand of humour and romance that bring laughs and warm fuzzies in equal measure. Passion, love and laughter fill her works, just as they fill her busy life.
What inspired you to start working in your field?
I had a dream. It was an erotic dream. I told my husband about it and he said I should write it into a story and put it onto the internet. I did as he said, submitted it to literotica.com and as soon as the feedback started coming in I was hooked. I've been writing erotica and erotic romance ever since. Smut.UK started off the back of my writing as basically I wanted more excuses to see my writing friends. So me and Kev started to organise social events for authors and readers…and we're still doing it now!
If you could give one piece of advice to aspiring sex bloggers/podcasters/writers/erotic creative types, what would it be?
Keep on doing what you're doing. Write, create, blog, vlog. Keep on keeping on. Even on days when you feel you're reaching no one, on the days you feel inadequate even on those days when you want to give up. In fact, especially on those days. Keep at it. Keep on creating. You are making a difference in more ways than you'll ever realise.
The way we talk about sex and relationships has changed a lot over the last decade – what changes do you hope to see in the next 10 years?
Oh, wow. Where to start? I'd love to see marriage equality stretching into the church, as a refreshing ministries Reverend this is very close to my heart. I also want to see a greater acceptance of all relationships. No matter the sexuality, gender, kink or number of the people involved. If it makes them happy, then that's all society needs to know.
Victoria Blisse's Eroticon talk: sex blogging for authors and other shy creatures
A guide to sex blogging for those who have never thought themselves brave enough to 'put it all out there'I will use my own personal experience as a 10 years published author who's only recently embraced the advantages of sex blogging.

I'll give hints and tips on how to do it, photo suggestions for those who won't show their face or other body parts and themes to embrace and avoid.

We'll have a go at writing an example sex blog, giving attendees at least 1 post they could put on their blogs once they get home.

The focus will be on the advantages, in numbers of viewers to your blog, sales (books will be my focus) and also the confidence boosting and personal gains you can get from it.
Come along to Victoria's talk at Eroticon 2018, and see all the Eroticon 2018 speakers on this page.