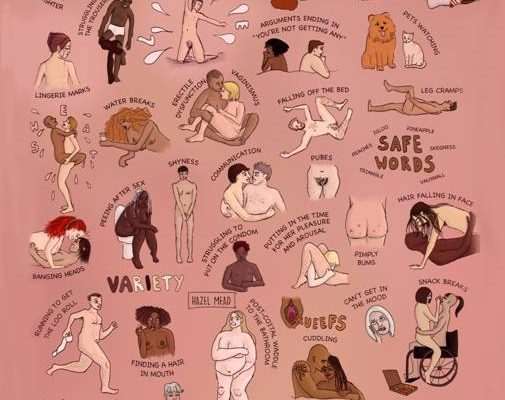 Eroticon – an event I hadn't heard of until this year, but whose name tempted and intrigued me. I was speaking with a friend and client of mine, Nadia who runs AM Appointment podcast, talking about sex and sexy events, as we do. She mentioned Eroticon and my ears pricked up immediately – I had been thinking about how I could expand my illustration practice further, venturing into new areas, sex positivity was definitely an area I wanted to explore. This could be a way to find that new audience for my work. I forgot about it, carried on with commissions for the rest of the week, had other things on the brain and then Eroticon sprang to mind once more. I'll just have a peek. I saw the prices and reluctantly admitted to myself it was a little pricey for me right now – I had just switched from a full time job to running my illustration business full time and I was now just scraping the rent. Gutted, I continued to browse the site, all the things I'd be missing, until I stumbled upon the pool which gave a handful of tickets to those who couldn't afford to go. (Like an x-rated version of Willy Wonka's chocolate factory – plenty of willy puns there). Anyway, I had missed the deadline by a day, but I'm someone that always tries my luck so immediately without thinking, I emailed to see if I could be put in the draw to potentially win a ticket.
I won a ticket! I decided to go the the meet and greet on the Friday to network and potentially get to know some people ahead of the event itself. Everyone seemed to know everyone and it was clearly a very tight knit community. However it was also a very friendly, open community that very quickly embraced me and made sure I was involved in conversations and mingling.
Sunday came around, I had planned which talks I was going to. I arrived, at the wrong building, typical Hazel. Try again. I arrived at the right building, poured myself a coffee and headed to the talk by Fetish.com about monetising content. It was fascinating and I learnt a lot but the information wasn't that applicable to me as an illustrator without a blog. Instead I made a couple of contacts with the fetish.com team – they're fabulous and open to ideas so watch out for some potential collabs there.
To mix up the day and explore different things I tried my hand at the Kinkcraft workshop and made my own handcuffs! It was quite a surreal experience, I was sitting in a room, chatting with a bunch of lovely people, getting help with tying knots as if we were in girl guides, yet we were all making handcuffs or collars. I felt warm and fuzzy in this totally accepting, non-judgemental group.
The third session I want to mention is the one that changed my life forever. I was completely torn between 'Sex Object: The History of the Objectification of Sex' by Eleanor Janega, which sounded incredibly informative and inspirational or 'Fantasy Sex: Porn versus Reality' by JetSetting Jasmine and King Noire which sounded incredibly informative and inspirational too. I wish I had Hermione's time turner so I could go to both, alas I didn't. I can't remember what swayed my opinion in the end but I chose the porn talk and I'm so glad I did….
Jasmine and King are two ethical porn directors and performers. They had their porn playing in the background whilst they gave their talk with both charisma and genuineness. They educated us on what goes on behind the scenes of porn, STI screening, the darker side of the porn industry as well as some of the ways in which their porn and other ethical porn differs. It was an insightful talk with the focus being on understanding how important it is to realise the difference between what is done for the camera and what is reality, to realise porn performers are performers and train, like athletes or circus performers, except in this case porn performers might work on their gag reflex or their physical strength in order to do lifts and perform more physically intensive positions. The part that stuck with me most is when Jasmine asked the question "what is something you experience in your own sex life that you don't you see in porn?" The audience started sheepishly suggesting, "sweat", "struggling to get the trousers off", "running to get loo roll". More people opened up as I started furiously scribbling the suggestions down. We were all giggling and nodding in agreement, Jasmine and King included, saying "So true, so true!" "Oh my god, yes!" – we'd broken down any barrier of shame as we realised it's not just us! It was freeing! I knew then that I had to turn this into a drawing.
The purpose of the illustration was to bring that same level of togetherness that was felt in that talk into one image. I did not expect how much it would resonate with others. In its success it also, naturally, received criticism and misunderstanding. I am aware there are mainstream videos out there that show these things. However, 'Things you don't see in 73% of mainstream porn' isn't as catchy a title. Girl On The Net wrote about my image and summed up my own thoughts more eloquently than I could have, (there's a reason I draw)
The illustration has since gone viral, given me more visibility, and I've gained an extra 50k followers which has brought countless commissions, interviews and purchases of the print itself. I often think about how every decision changes your life: you go down that street, you take that bus, you go for that job, you have decaff instead of caffeinated. I am constantly thinking 'imagine if I hadn't applied for the Eroticon ticket, imagine if I had gone to the other talk, imagine if I had left that spelling mistake on the illustration instead of reposting like I did', I wouldn't be in as good a position I am in right now career-wise. The chance to attend Eroticon really was life-changing, and thank god for FOMO. You just never know who you're going to meet, so if possible take all the opportunities you can.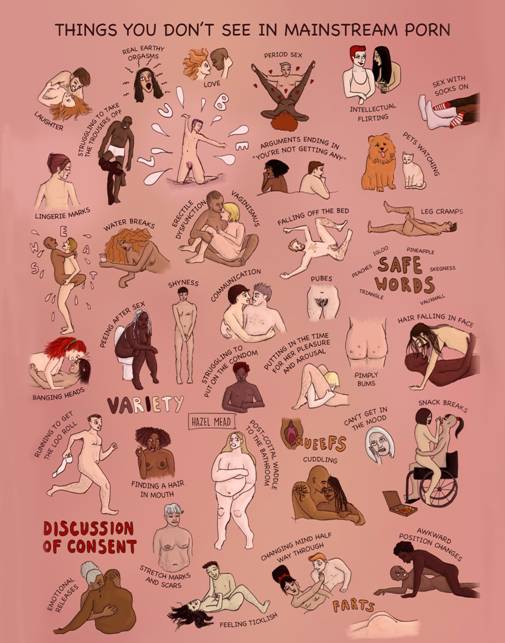 You can buy the 'Things you don't see in mainstream porn print' from Hazel's shop
You can follow Hazel's work on her Instagram page
Tickets for Eroticon 2020 are now on sale and the pool draw for tickets will take place in Jan/Feb 2020. Subscribe (at the bottom of the page) to the site for regular updates.
Eroticon Technical Director