Introducing one familiar Eroticon face today and one new one. Victoria Blisse will be contributing to our panel on anthologies and on sex and faith, Violet Rose will be on the sex workers panel and Les and Ruth Browne will be sharing their insights into sex and disability.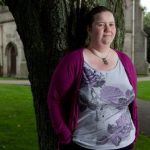 Victoria Blisse is a Mother, Wife, Christian, Manchester United Fan and Award Winning Erotica Author. She is also the editor of several Bigger Briefs collections and Smut by the Sea and Smut in the City.
She is equally at home behind a laptop or a cooker and she loves to create stories, poems, cakes and biscuits that make people happy. She was born near Manchester, England and her northern English quirkiness shows through in all of her stories.Passion, love and laughter fill her works, just as they fill her busy life.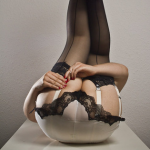 Violet Rose is a well-respected courtesan with almost two years experience in the sex industry.
Six months as an agency escort, and 18 months as an independent (self-employed) sex worker. In 2011 she also co-organised the London Sex Worker Film Festival and SW Open University, a five day conference for international activism, art, performance and workshops. She has led workshops there and elsewhere, on various topics including safer sex; sex with people with disabilities; consent, negotiation and boundaries.
Her work now is split between the usual (but lovely) wealthy straight able-bodied men and more niche interests; some fetish/BDSM, work with people with disabilities and her favourite work: threesomes, both with colleagues and couples of all kinds.
She loves vintage style (especially lingerie), cats and avocados.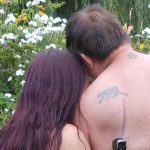 Les Browne is a wheelchair user and Ruth is his able bodied partner.
Les and Ruth met through a shared interest and passion for supporting disabled people to live independently. They have worked within the area of disability for many years and have strived to support people with disabilities to meet their needs and live fulfilling lives.
Les and Ruth are old hats at creating erotic fantasy together – but new to writing it down and sharing with the world! They now run a weekly blog focusing on sex and disability and are also writers of erotic inclusive short stories.
Les and Ruth are eager to share their knowledge, experiences, ideas, advice and general enthusiasm for the subject of sex and disability to help disabled individuals and couples, as well as promote a positive attitude within society towards disabled people, their sexual needs and desires.
To find out about all the speakers, schedule and to buy tickets please visit the Eroticon 2013 conference site. Early Bird tickets are just £90 for a single day and £150 for the full weekend.
We've also rolled out the instalment plan for the month of October, so you can get spread the cost of your weekend ticket over three monthly payments, click here to buy.