Please welcome sex blogger and erotic writer, Jillian Boyd to the Write Sex Right blog.  Jilly has been kind enough to share her experience of Eroticon 2012 and, more excitingly, what has happened to her since then.
::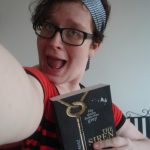 I started blogging a year and eight months ago.
I started writing stories a year ago.
And I got published for the first time in my life the day after my 21st birthday.
It was a lovely start to an entirely new path in my life. I knew deep in my heart that I wanted to be a writer, but I had never reckoned that my choice genre would be erotic fiction. It took me ages to even work up the courage to write a sex scene. I was too embarrassed to even write the words, let alone dedicate an entire story to saucy encounters.
But eventually, I got to that place. And I got published. Wrote a few more stories, got accepted a few more times… but I never felt like I had done enough.
And that's where Eroticon 2012 came in.
I had heard about it long before I submitted my first story. Ruby Kiddell's work of passion had been in the making for the better part of a year, and when I opened the door to the venue in Bristol back in March, I was in awe.
I studied the as yet unclaimed name badges and nearly wet myself in excitement. I KNOW THESE PEOPLE! And I'm going to meet them! I'm going to meet Zoe Margolis, the woman who got me into blogging! I'm going to meet Hazel Cushion, the CEO of Xcite Books! I have her books!
I think you can judge from those last few sentences that I was a bit overwhelmed with this entire hoohah. I mean, I didn't feel like a writer, I felt like a tit with business cards.
But as the day went by, I grew into it. I worked that room like the Lady Diva I am and ended up talking to both Zoe and Hazel, plus making a whole lot more new friends.
I even gave my first interview, which I thought was never going to get published.
Well, guess again.
A few days later, I was on the computers at my hostel when I found myself mentioned in The Guardian. And then Metro. And then I never stopped crying because I officially felt like I could be someone.
My luck didn't end there.
I bagged a phone interview with a women's magazine, which was an amazing experience. I never thought I'd be in a magazine!
But what happened after that really made my year.
I got an email from a literary agent.
An actual literary agent who wanted to collaborate on a book with me.
Dude, do you realize how much of a heart attack I had right there and then? Even more when I spoke to her a few days later. She said that she'd read about me in the interview I had given and that she liked my blog.
It set the tone for the next few months.
I started a new life in London, to further my writing career. So far, it's going great. I'm getting published, I'm networking and I am, more than ever, looking forward to Eroticon 2013. It was an event that kick-started a whole new phase in my life and I can't thank Ruby enough for taking the time to organize it.
Eroticon is a must-attend for any new writer. Don't be scared. Just buy tickets, put your game face on and work that room like your life depends on it.
I will be there next year. And I will be there with bells on.
Jillian.
::
To find out about all the speakers, schedule and to buy tickets please visit the Eroticon 2013 conference site. Early Bird tickets are just £90 for a single day and £150 for the full weekend.
We've also rolled out the instalment plan for the month of October, so you can get spread the cost of your weekend ticket over three monthly payments, click here to buy.