This weekend I attended the ETO Show in Birmingham.  The event is the only business to business trade event in the UK for the adult industry.  I went to meet up with people that I've got to know in the last two years of running Eroticon and to grow my circle of contacts and to talk about Eroticon to people.
I only managed to be at the show for a couple of hours and I had my hit list of exhibitors I wanted to talk to as well as a keen eye for companies that might prove of interest to Eroticon attendees and Write Sex Right readers, so here's a non-exhaustive list of who I met and what caught my eye.
Xcite books
Hazel Cushion (I'm a great fan of this woman) was on the Xcite Books stand smiling and enthusiastic as always, helped by Kay Jaybee and K.D Grace.  Hazel talked me through the new  Karma Xcitra interactive book and app that demonstrates 69 of the Karma Sutra positions.  The reader chooses their position from the book, holds their phone or tablet over the page and the app brings up a 3d hologram of a couple in the position.  The app is interactive allowing you to change the skin colour and hair colour of the figures.
It's pretty cool as you can rotate the figures to view the positions from different angles and as Hazel said "sometimes you just don't know what to do with your elbows!"
Hazel and I also chatted about some upcoming Xcite titles and I grabbed a signed copy of Kay Jaybee's The Perfect Submissive, which nearly made me late for work this morning.
Roll Play Story Dice
A variation on decision dice the Roll Play Story Dice are a set of dice with writing prompt images on them.  As well as the sexual prompts there are prompts for actions and events to help move a story along.   A simple idea for private fun, flash fiction prompts or for beating writers block.  You can find out more about Roll Play Story Dice on their website: www.rollplaystorydice.co.uk/
OVO
OVO are a German company that is new to the UK market.  They have a wide range of products including cock rings, insertable vibrators and external vibrators.  The products look beautiful with a high standard of detailing and finish.
You can find out more about them on their website: http://www.ovo.de/en/home
G-Vibe g-spot vibrator
A double armed vibrator with symmetrical, flexible arms.  The motor sits low in the body of the vibrator with both constant and pulsing settings.
The marketing materials showed the vibrator in  use for vaginal penetration, double penetration, breast stimulation, male penetration, penis stimulation.  Which to my inexpert eye made it seem well thought-out in terms of being a toy that was adaptable to both male and female pleasure.  That said it is still very much a sex toy marketed to women and presented as a G-spot vibrator.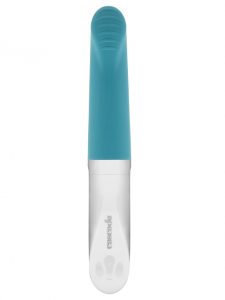 Cascade – self lubricating vibrator
The Cascade vibrator contains a cartridge of lube that is discharged through the top of the vibrator via a push button control.  I was impressed because if a woman likes or needs to use lubricant with her vibrators this gives a discreet way to do so.  The cartridges are replaceable and the outer sheaf of the vibrator is interchangeable too.  I liked the premise of the product and will be interested to read user reviews of it.
The Stronic-Drei
I want to try this vibrator.  It thrusts.
The movement is different from any other vibrator that I've held with a distinct thrusting, pulsating motion.  Priced at the luxury end of the market from Fun Factory the Stronic-Drei is already available in the UK.
[hr]
I also managed to catch up with Emma from Sex Toys UK, Nigel from Give Lube and Matt from Tease.
There was much more to see at the ETO Show and I'd definitely recommend it if you are looking to develop your professional network in the adult industry.
[hr]