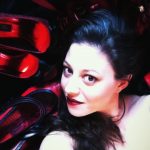 Cara Sutra has been working within the adult industry for 6 years, both freelance and in-office. She has worked for some of the largest adult distribution companies in the UK, such as Net 1on1/sextoys.co.uk & ABS Holdings/SimplyPleasure.
Cara Sutra is also an influential name in the BDSM and Fetish scene, with a strong web presence, kink scene contacts and the Dominant woman lifestyle, complete with her own live-in slave.
Going from strength to strength, the Cara Sutra brand has seen exponential growth, leading to Cara working full time, freelance from home. Her days are filled with writing professional advice and informative articles for her own website as well as the likes of ETO Magazine, Erotica UK and a range of adult industry companies.
Making her living from the strong Cara Sutra brand, Cara's services have grown from professional articles to include premium and standard advertising on her website, social media marketing support and adult industry consultancy.
Cara Sutra was awarded the title of Best Sex Blog from Xcite Books in 2012 and recently won Best Erotic Journalist in the 2013 ETO Awards.
You can find Cara Sutra here:
Website: CaraSutra.co.uk
Twitter: @TheCaraSutra
Facebook: CaraSutrasPage