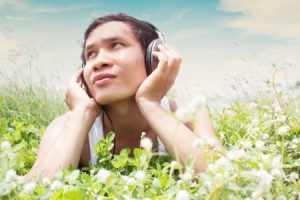 My third audiobook just released this week, about a year and half from the time when I decided I wanted to have audio versions made of my books.  My initial idea was that I would record them myself. I figured I have a sexy reading voice, and I am entertaining when I read (at least my kids think so when I read bedtime stories!) so I can totally do this, right?
Wrong.
Well, maybe I could have, but the fact was, a year and a half later, I hadn't done it yet. I had purchased an expensive microphone and I recorded a ten minute snippet of The Bossman for the Goodreads BDSM group's Bedtime Stories, but that was it. I learned that to do it right, you really need to use a recording studio with all the proper sound-proofing and equipment. My ten minute attempt featured the whirring of my computer fan going on and off in the background.  Not awesome.
Really, it wa
s the nudging of two very kind author friends, Erik Schubach and Normandie Alleman that made me give up my dreams of recording my own and try out the wonderful world of ACX.  Erik has five published audio books, with thirteen more in the works, and Normandie has two published and is considering turning a trilogy into audio using both a male and female narrator.
Here's what Erik told me, which got me off my butt and moving fast:
"As far as profitability goes, eBooks bring in the most for me, followed by audiobooks, braille, and then paperbacks.  My audiobooks are already making one quarter what my eBooks are on Amazon, and I only have five released. Once all of my books are converted to audio, they will bring in more income than all other sources combined on Amazon."
Wow. That sounded to me like it was worth the effort. Normandie concurred. Ebooks make the most for her, followed by audio, then print. When I told them my idea to record the books myself, they both gave me the thumbs down.
According to Normandie, "This is really a job for a professional, and that's my opinion coming more from my perspective as consumer than as an author. I listen to 2-3 audiobooks a month, so I know how important the choice of a narrator is! Narrating audiobooks is a skill, they teach classes on it for voice-over artists. I mean, would you get up on a stage and act out your book, including the various characters' voices, sex acts, and all? I don't think most erotic authors would be very successful at that.  I have known people who produced their own books on audio and it took over six months, with professional equipment, to do it all, including the editing."
So, basically, I hit the easy button and posted my books on ACX for the 50/50 author-narrator royalty split. It cost me nothing, and I had a wonderful narrator audition for and record my books for a share of the sales. (I also had a couple ridiculous auditions, but we won't mention them).
Erik also posted his using the 50/50 royalty split but as his income as an Indie author grows, he will pay up front for the narration and keep the full proceeds. Normandie opted to hire the narrator outright. She explained, "The narrator not only reads the book, in some ways the narrator actually performs the book. Finding the right professional is not cheap, but when I pay my narrator outright I know that I'm going to get the high quality performance I want." Rather than starting at ACX, she found her narrator through Voices.com and then used ACX for production and distribution. This way, she can start a book before it has been published as an ebook.
That's an important note–your book must be on Amazon and it must match up with the text of your ebook for the "Whispersync" to work. Whispersync allows consumers to switch from Kindle to audio and back again on the same book. I inquired about having an audio book made of a novella I wrote that appears in a two-pack with another author, but I was told no, unless it matches up with an Amazon book, it can't be done through ACX.
My first audiobook was released only a month ago, so I can't say yet what ratio of audio to ebook I will sell.  Erik guestimates his might be one to five. The way I see it, even if I don't sell more than the 150 I sold in the first month, it cost me nothing and every dollar that comes in is money I wouldn't otherwise have.
I asked Erik and Normandie how they market audiobooks–whether there's any special place to post about them, etc.  Erik said, "I market them right along side my other books.  I find that over half the people buying my audiobooks have already purchased the eBooks.  So it is an overlapping market for me at least."
Normandie has not had much luck with sites for audiobooks. "It is difficult because most of the online sites and reviewer blogs dedicated to audiobooks do not deal with kinky books like mine, few will even promote/review erotica. There are a few who do, but mostly I market on Facebook and Goodreads in various groups. Having reviews helps and I expect my audiobook sales have mostly grown organically. I believe the best way to sell your audiobook is to make more audiobooks. Having a body of work is probably even more important in audiobooks than it is in ebooks because of listener loyalty."
Okay, I know that was a lot of information presented in a meandering format.  Here's the quick and dirty  for getting your books made into audio via ACX:
1.  Check to be sure you have the audio rights for your books (all but one of my publishers left them to me)
2. Log into ACX, search for the titles of your books, and claim them as yours.
3. Follow the steps to post them as "open for auditions".  At this point you will select whether you're willing to pay a narrator outright (usually $100+/finished hour) or do the 50/50 split.
4. Upload an audition script (about 5 minutes of text – so usually the first few pages of your book)
5. If you receive an audition you're happy with, you hit the "make an offer" button, which is basically sending them a contract to do the work for the arranged fee or the 50/50 split.  You set a deadline for the first 15 minutes (I usually say one week) and the entire book (I give it one month for a four hour book).
6.  When your book goes live, you will receive 25 codes to use for review copies or prizes. The audio book will show up for sale on Amazon, Audible and iTunes. Let your loyal readers know that if they previously purchased your ebook, the audiobook can be purchased for a mere pittance. For example, my audiobooks sell for around $14, but if you've bought the ebook, you can buy it for only $3.
7. Sit back and watch the money roll in.  Just kidding. Well, sort of. Really, if you do the 50/50 split, you have absolutely nothing to lose and everything to gain. I encourage you to go for it!
Let me know if you have any questions or what your experience has been.