Last weekend I spent three days working with the Sexpo UK events team to put on a schedule of seminars. I left home at 10am on Friday morning and got back at 10pm on Sunday evening  after 60 hours of hard work and fun.
I'll apologise now for the lack of photos in the report so do look out for the official report in ETO but also check out Cara Sutra's report which has a dizzying array of pictures and does a great job at conveying the breadth of exhibitors at the event.
Let's talk about what I was there to do – run the seminar programme. There were 14 talks scheduled across the three days, covering everything from blow job techniques to how to get over your ex, via spanking demos and the NHS Sex clinic Q&A. It was great to meet new presenters and practicioners and I've busily signed up some of these fantastic people to come and present at Eroticon Live in 2016.
I hadn't known what to expect as working at such a large event was new to me  but from an organisers point of view, every session ran to time (yay my organising skillz!) and each were well attended with standing room only for the luminous Rachel McCoy, inspirational Renee Denyer from Sh! and wonderfully down to earth Tanya Tate – three women all working in the sex industry on their terms.
Being a seminar area built into the main event floor did mean that at times we were struggling against the background noise of the main event or stage show, but all my presenters managed with poise and patience.
In between making sure all my presenters were happy I had time to drop by some stands and catch up with some of my favourite people in the industry. It was, as ever, a delight to catch up with Will and the gang from Doxy – I am now a VERY happy owner of the new Skittle – get one, you won't regret it!
Love Arc were exhibiting opposite Doxy and it was great to see how their product has developed since it's launch at ETO show in June. They've worked to create a harness to use with flare based toys rather than relying on suction cups – which increases the products versatility and appeal, as does the addition of long arms that can be used as a spreader bar. These guys really know design and have created a beautiful, adaptable and unique product.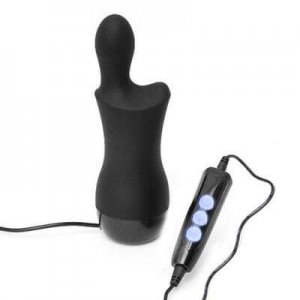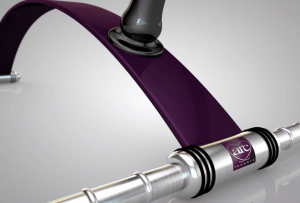 I spent a lot of time talking with Adam of Godemiche – his passion and craftsmanship are amazing, as are the handcrafted silcone dildos that he produces. If you're looking to support a small business, go here and buy some classy silicone cocks.
I also lingered around the JuJuJezebel stand far too much, because who doesn't want pretty pretty leather harness, cuffs and collars. Oh the pretty! Here's me and Violet Fenn test driving some gold leather lushness.
Other pretties included Katie Robertson's stand Outlandish Creations, I've seen her work online at various different boutiques but in person they are really rather wonderful.
I've focused on small businesses because I think that an event like Sexpo can really boost not just sales but awareness of small businesses. The adult retail industry is a very competitive marketplace and events like Sexpo are imperative to give the small, innovative, creative businesses the exposure they deserve.
And finally a word about the people! Oh the people – this is what I love about the adult industry, all you weird, wonderful open minded folk. As ever too little time was spent with blog bods of awesome Violet Fenn, Molly Moore and Michael Knight.
Talking of bloggers I was absolutely blown away by the hard work, enthusiasm and sheer loveliness of Oliver Clark who blogs about sex and relationships at essexlad.com.
Other thanks to Deb Fields for thoughtful discussions of BDSM, Craig Rogers for making me laugh so much and to the tigery rock god goodness of Ryan from Rayguns Look Real Enough for laughs and crazy dance moves at Saturday's after party.
Working with the team from Sexpo UK was an absolute dream – down to earth people working hard and producing outstanding results with no dramas and a lot of laughs.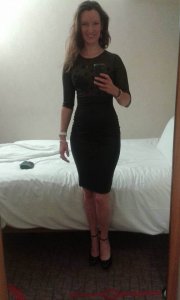 And finally, from afar, thanks to Kim West for making beautiful latex frocks for parties – I scrub up pretty well. If you didn't attend this year, get Sexpo into your diary for next year 11-13 November 2016.