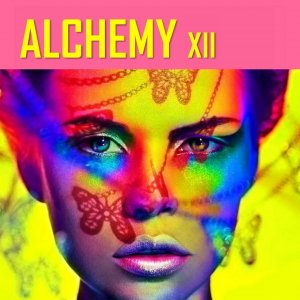 December 1 sees the publication of the thirteenth (!) and final instalment of my monthly serial, Alchemy xii. I feel proud of myself. Each and every episode has been published on time (December is already uploaded and available for pre-order) and I've written, edited, had beta-ed, formatted, uploaded and scheduled 200,000 words of the epic BDSM love story of Harry Lomax and Olivia Roux. Not to mention designing 18 covers—for individual episodes, quarterly omnibus editions and for the entire collection.
It's pretty much all done and dusted. So how do I feel?
Exhausted.
It's been a twelve-month rollercoaster of the most vertiginous learning curves in writing, publishing and marketing. And the big question for me is, if I knew in December last year what I know now, would I still have embarked upon the project?
So, what have I learned along the way?
If you're writing a serial, write way, way further ahead than you think you need to. I would even go far enough to suggest that you get the entire serial written before you publish the first episode. Did I do that? No. I started off writing about two months ahead of schedule, which was pretty much cutting it fine. I needed to allow time for all the multiple steps that needed to be completed between writing and publication, particularly giving my beta readers plenty of time. Thing started off fine but the year seemed to get busier and busier. My schedule drifted. By the time I finished Alchemy xii – December last week, I was down to days rather than months. One more month and I'd have come a cropper for sure…
If plotting's important for a novel, it's even more critical for a serial. I'm a plotter. I don't write anything by the seat of my pants. I've written posts on my love of plotting. So what happened here? I set out to write 13 novellas in 12 months with probably the flimsiest of plotlines I've ever devised. Secondary characters and sub-plots? I was so excited about the concept, I forgot the nuts and bolts. Until I had to start writing. Suddenly I was plotting by the seat of my pants. Secondary characters walked on stage and introduced themselves in the nick of time, MacGuffins materialised with no apparent purpose and at the beginning of each episode, I'd scratch my head, untangle the plotlines of the previous episode and edge them forwards a little more… It was scary and it was liberating. Characters grew and developed month on month and gradually the mists cleared and I knew how everyone would arrive at the same point at the end. But if you're going to write a serial, take it from me—work out your plotlines for the whole series before you start. And those MacGuffins? Luckily, they all came home to roost most satisfactorily.
When you're writing an ongoing serial, you can be responsive to your readers. But do you want to be? It could be a dangerous road to start down. I received some feedback to the first couple of episodes complaining that my characters didn't use condoms and that they smoked. It would have been easy to change this in subsequent episodes, but I resisted. I'd made a conscious decision about both of these things, so I wasn't going to let myself be swayed. On the other hand, I did take note of which of the secondary characters were proving most popular with readers, and I allowed their roles to grow larger—this was something that the ongoing plotting allowed for.
Beta readers are the best, most wonderful and precious people in the world. I don't think I would have made it to the end of this epic if it hadn't been for the huge love and encouragement I had from my three main beta readers, Malin James, Delilah Night and Jade A Waters. Seriously, I owe these women a 200k-word debt of gratitude. So, believe me, if you find good beta readers, coddle them, indulge them, give them anything they ask for…
Formatting is easy and I don't know why people make such a fuss about it. The fact that I had to do my own formatting (and covers) was a no brainer. With 18 editions to be made ready for publication over the course of 12 months, it wouldn't have been financially viable for me to pay someone else to do it. But actually, for straightforward fiction, there's no real reason to involve anybody else. How did I learn to format? I downloaded The Smashwords Style Guide by Mark Coker. It's step-by-step formatting for the technically challenged, which I certainly am, and I followed its instructions each and every time I formatted a new episode. And it was easy. And quick. (That may not be the case if your book contains illustrations, photos, tables etc – these certainly make formatting more complex.)
Marketing is essential. Marketing is f**king hard. Apparently you should spend about 20 percent of your time writing and the other 80 percent of it marketing what you write. That sounds about right to me. However, if you spend 100 percent of your time writing just to keep up with your own self-imposed deadlines… What can I say? Marketing is hard graft and you need to expend an awful lot of energy doing it, especially if you self-publish. And it's not that much fun, putting yourself out there and pushing your product into people's faces. So I didn't do much marketing for Alchemy xii. Which is why probably most of you reading this have never heard of it before. I can't give you any gems of wisdom about how to market your book and what really works, because I suck at marketing.
Self-publishing isn't for everyone. Self-publishing isn't hard. Once you've mastered formatting, the rest is a doddle. But don't kid yourself—pressing 'Publish' on Amazon or Smashwords is not a fait accompli. It's just the beginning. You can't sit back and wait for the sales to role in. You need to get busy marketing—see point 6 above. And if you're self-publishing in erotica, it's even tougher, because Amazon will keep your books invisible in their search engine. Visibility, or lack thereof, is a huge issue for self-published erotica that doesn't include the word 'stepbrother' in the title! Don't get me wrong, I'm not saying don't do it. Some people are hugely successful at it. But this all ties back to my point 1—get the writing out of the way so you have time for the marketing.
So would I do it all again?
Writing and publishing Alchemy xii has been massively rewarding for me, if not financially, certainly intellectually and emotionally. If I'd known then what I know now, I would have prepared better and marketed harder. But it's not over. The whole series has just become available and I know that there are plenty of readers that won't commit to a series until they know it's all done. So now's the time for another big marketing push (or a first big marketing push, to be more accurate) and we'll see where it goes from here.