We're really excited to bring you this guest blog from our sponsors Hot Octopuss announcing the launch of their brand new clitoral stimulator the Queen Bee!
If you were with us at Eroticon 2017 you may have got your hands on the prototype of this toy, and it's fair to say it caused a bit of a stir! The Queen Bee is the first ever clitoral stimulator to use the unique PulsePlate – a motor that oscillates rather than vibrates.
Previously, oscillations like this were only available in Hot Octopuss' PULSE III – the powerful masturbator for penises. But after a lot of demand from sex toy fans around the world, as well as a whole heap of experimentation and development, the team at Hot Octopuss are ready to launch their first ever clitoral stimulator!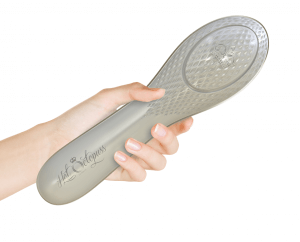 What is the Queen Bee?
The Queen Bee is a hand-held wand toy designed for clitoral stimulation. It's fully waterproof, comes with a magnetic charger, and has six different vibration patterns as well as the option to go with a 'steady' stimulation.
But the most important part is what makes the Queen Bee unique: instead of low-amplitude vibrations, like those found in most clitoral stimulators, the Queen Bee used high-amplitude oscillations. A vibration might travel a small distance, giving a high or 'buzzy' sensation. But an oscillation means that the PulsePlate within the toy travels a much larger distance, delivering a powerful, thuddy sensation that is totally unique.
Hot Octopuss describes this as "the difference between the shaky vibrations of a bus as it accelerates, and the powerful juddering as it goes over a speed bump."
How do I get my hands on a Queen Bee?
Ah, the million-dollar question! Well, not quite a million-dollar question, because one option is to get your name on the review list for a toy. If you run a sex toy review blog, or indeed any other sex blog, drop an email to media@hotoctopuss.com to discuss a review. But be aware: at present they have quite a waiting list!
If you're already on the review list, then your Queen Bee will be on its way sometime in the next couple of months (review toys are going out in small batches starting from August) – so look out for an email!
What's more, if you're based in or near New York City, you might want to join Hot Octopuss for a bit of launch-day fun…
The Queen Bee Launch in NYC – join in!
On the 10th and 11th August, Hot Octopuss will be opening the world's FIRST pop-up orgasm shop on the Lower East Side. If you're into clitoral stimulation, you're invited to The Changing Room: By the Queen Bee for a full orgasm makeover with sex therapist and orgasm stylist Diana Barone.
After your free sexpert consultation, you'll be invited to slip into a private changing room to try on your new orgasm with the Queen Bee. If you do choose to test the Queen Bee, you'll be able to take the toy home for free!
To book your slot at The Changing Room, email queenbee@hotoctopuss.com
Slots are available on Thursday August 10th from 10am-7pm and Friday August 11th from 10am-6pm