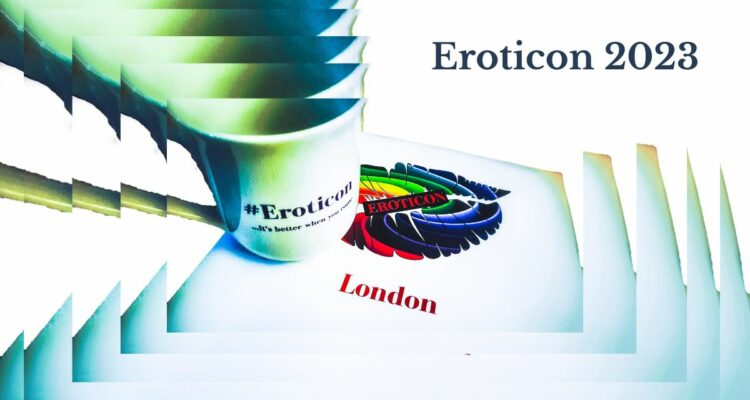 Yes, finally, I think…. according to my calendar it is now most definitely 2023 and that means it is time to officially launch Eroticon 2023.
After a hiatus that has lasted nearly 3 years due to Covid I am delighted to finally be bringing Eroticon back. When I cancelled Eroticon back in 2020 I truly had no idea that it would involve that long of a break but I think leaving it that long was the right thing to do, for a huge variety of reasons, but now it is definitely time to focus on looking forward to this years event and putting the last years behind us.
So let's do it
When
Eroticon 2023 will be held on the weekend of June 10th and 11th 2023. As is tradition the Meet and Greet will take place on the Friday evening (the 9th June 2023) before the conference officially starts so if you are making travel/accommodation plans then you may want to plan to arrive on the Friday.
Where
Arlington Conference Centre
220 Arlington Road
Camden, London
NW1 7HE
The venue for the Friday and Saturday night social events is still in the works but once I have them confirmed I will add that information here.
Tickets
There are 10 early bird tickets available. Once they gone they are gone so if you want to get a reduced price ticket then I suggest you are quick
After that then it will be the standard weekend tickets. There are also day tickets so if you only wish to attend the conference on one of the days it is running then this is the ticket for you. You can pick the day you wish to attend.
If you wish to spread the cost of your ticket then the installment plan allows you spread out your payments
The business ticket is not for you Bloggers, Vloggers, Podcasts, Writers, Content creators of any sorts but for actual business who don't want to sponsor but still want to attend the event so they can access the workshops and sessions but also represent their company and network with the delegates.
There is also the option to help others attend the conference. You can add this to your basket and the money is used to subsidise tickets to people who for whatever reason would not be able to afford to attend. If you buy this option you can also then add your promotional material to the goody bags.
If you are not sure which ticket is for you then feel free to get in touch and I can help you info@eroticon.co
Existing Ticket Holders.
If you have a ticket from 2020 that you never applied for a refund for then you are good to go. I will be emailing all those people next week so if you think you have a ticket and don't hear from me within the next 10 days then drop me an email. I have a list and know who you are!
This does not apply to pool tickets. If you were awarded a pool ticket in 2020 you will need to reapply this year. Applications will be open approximately 6 weeks before the conference.
Speakers
Could this be you?
The speaker proposal form is also now live.
I am starting fresh for 2023 so if you were due to speak in 2020 and would like to put yourself forward again please submit a new speaker proposal form.
Do you have an idea for a session you would like to lead at Eroticon 2023?  We are particularly interested in sessions that we have not had before or new takes or viewpoints of previous topics. You can find all the previous sessions in the drop down menu at the top of the site so if you are not sure please have a look through to get a feel for the kind of things we like to cover.
Once you have submitted your form please be patient. I will get back to you eventually but it might not be until March depending on how many proposals I receive.
Sponsors
We already have some amazing sponsors lined up but there are more in the pipeline and I look forward to announcing those once they are fully onboard however if you are a sex toy or sex related company/business who would like to be a sponsor at Eroticon and have a stall in our sponsors hall please do get in touch with me ASAP. We have a variety of packages available and can always tailor something to suit your needs/budget.
For now that is the big things covered. There will be more stuff coming soon as speakers start to get announced so make sure you subscribe to our Newsletter and also follow us on Social Media. We are now also on Mastodon so if that is your new social media of choice come follow us there.
Happy New Year!
Molly
Author, Blogger, Photographer, Speaker. Director of Operations for Eroticon