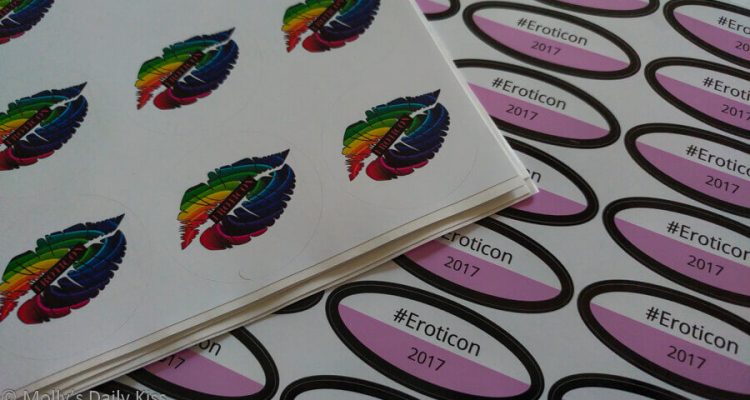 Last year we published a blog just before the conference, putting all the handy info in one place. So for this year's conference we're doing the same – check out the post below for everything you need to know in the run-up to Eroticon 2018. And if we've missed anything important, please do tweet us @EroticonUK or leave a comment below – we'll update this with more info if there are any vital bits we've missed! 
Eroticon 2018 – the venue and getting there
Eroticon will be held at the same venue as last year – the lovely Arlington House, in Camden.
Nearest Tube: Camden Town (northern line). Also easily accessible from the Overground (10 minute walk from Camden Road or Kentish Town West).
Nearest Bus stop: There are plenty of buses that stop at Camden – if you're coming from Euston hop on the 168 or the 253, if you're coming from Kings Cross the 214 or the 46. This isn't an exhaustive list – there are quite a few buses! Here's a bus map for Camden Town, and if you're a night-owl there's a night bus map here too. Thanks to TfL, the Northern Line is now a night tube, which means that it will continue running all through the night on Friday and Saturday of Eroticon weekend.
Walking: Arlington House is roughly a half-hour walk from Kings Cross, and about the same from Euston, both of which are served by the Circle, Met and Hammersmith&City lines. Kings Cross is also served by the Victoria and Piccadilly line.
Eroticon tickets/delegate forms
You do not require a physical ticket for this event. you should have filled out your delegate form to let us know the name you'd like for your badge as well as any dietary requirements you might have. You will need to know what your delegate name is to collect your badge. If you haven't done this (or you think you haven't!) drop us an email info@eroticon.co and we'll check you off against the list.
Eroticon 2018 – photos and event behaviour policy
Because so many of us are anonymous or pseudonymous, one of the most important rules of the conference is: no photos without express permission. To help people with this, when you get your conference badge, you'll be given the choice to wear a red lanyard or a black one.
Red lanyard = I don't want to be in photos.

Black lanyard = I don't mind being photographed.
While we cannot guarantee anyone's anonymity, we can do our absolute best to make sure that people follow this rule. There is more info on anonymity and events here.
Everyone must wear their badge at all times when inside the venue (this is to help venue staff as well so they know not to let anyone just wander in off the street), and abide by the rule on photos. If you'd like to take selfies or pictures with our sponsor products – that's great! It is fully encouraged! Just please be aware of the frame of your shot, and make sure there is no one in it who has asked not to be photographed. While people may not be wearing their badges when they're out and about (and at the social events), the rule still stands: no photos without express consent. That means you need to ask, and receive, confirmation from everyone in shot before you take a photo.
We also have a behaviour policy – it's mostly common sense, based on consent and respect for all attendees. Please familiarise yourself with it before you arrive. If at any point someone breaches the behaviour policy, please contact one of the Eroticon organisers.
Eroticon 2018 – the conference weekend and venue
We have a packed schedule for the Eroticon weekend, with some absolutely incredible speakers. Some people like to spend the whole weekend in talks/workshops, others prefer to take a more chilled approach and go to a few favourites but give themselves time in between to wander around our sponsors' area, or have a sit-down and a breather. It's completely up to you, though we'd recommend taking at least one session's break each day to give yourself time to mingle, meet our sponsors and check out the fantastic books on the book stall.
We open the conference with a quick welcome and keynote to kick things off. After that, we split the main conference space up and the rest of the talks/workshops happen in different rooms.
There will be:
1 room for workshops (including KinkCraft demos)
3 rooms for talks (these hold around 20-60 people)
1 'chilled' room (this is a place that will have some chairs/tables for people to sit down/take a breather/work on their latest erotic story) as well as Sheets of San Francisco's four-poster bed if you need to recline or just want a glamorous backdrop for a photo.
the sponsor area (this is the large corridor that connects all of the other rooms. It contains sponsor stands as well as the Eroticon book stall run by Victoria Blisse of SmutUK. It's a nice place to hang out and wander around – come along and chat to our friendly sponsors or browse the books!)
the 'silent sanctuary' – a quiet room for people who may have chronic health conditions that mean they need to take some time out from the busier conference areas.
Toilets can be found in the main corridor near the sponsor stalls – toilets are gender neutral, please use whichever you like.
Smoking is not allowed in the venue, but you can smoke outside the building on the main street. If you'd like to remove your badge while you're outside, you need to put it back on when you return inside.
Accessibility – The venue (Arlington House) is accessible by wheelchair – there is both a lift and a stair lift that go from the entrance to the ground floor. The Friday night drinks venue is accessible by wheelchair, however there's a raised dais on half of the room which is not. All the main bits – bar, toilets, etc – are though. The Saturday night venue has no steps, and has an accessible toilet in the main bar.
Lunch will be served in the main canteen, just off the sponsor's corridor. There will be people to direct you when lunch is served – a catered buffet lunch of sandwiches, wraps, crisps, fruit, cupcakes, that kind of thing. There'll be a separate area to pick up your lunch if you've requested dairy-free/gluten-free or other lunch options. If you'd like to change your lunch options, please let us know by Tuesday 13th March at the latest as we need to get catering numbers to the venue by Wednesday. If you'd prefer to go out for lunch, there are lots of restaurants/shops nearby in Camden.
Refreshments On each day of the conference there'll be tea/coffee breaks (marked on the schedule) where there'll be a choice of teas/coffee/decaf coffee etc.
Help and assistance is available from the registration desk, which you'll see when you first get to the conference (the desk where you collect your lanyard). There should always be someone (either an organiser or a volunteer) near the registration desk in the main corridor – they are your first port of call if you need anything, and if you can't find something during the weekend, please do ask!
Raffle Every year we run a raffle so you have the chance to win some of the incredible products that our sponsors have to offer. The raffle will be drawn at the end of the day on Sunday, so do make sure you stay with us for goodbyes and to see if you can take home one of the brilliant prizes that are on offer!
Eroticon 2018 – the Friday night social
Although the conference officially begins on Saturday morning, there's also a Friday night Meet and Greet event. It's a great chance to get to meet other attendees, and chat to them in an informal setting, before you get stuck into the conference on Saturday.
The Friday night Meet and Greet will be held at the Holiday Inn Camden (just round the corner from Arlington House), and we have a private room with a private bar. There's a smoking terrace outside, and bar/toilets/tables/chairs inside for everyone. It also has a lovely view of Camden Lock.
At the Friday night meet and greet, we'll also be letting people pre-register before Saturday morning. So if you'd like to pick up your event pass a little early (and have a bit of a lie-in on Saturday/avoid having to queue for it on Saturday morning), please do come and pick up your badge at the drinks event.
Can I bring extra people on the Friday night? If you'd like to bring a partner/friend to the Friday night social, please email us info@eroticon.co or DM on Twitter. Please don't extend invites without checking with us first – there should be space to accommodate extra people, but it's a private event so isn't open to all.
Eroticon 2018 – the Saturday night social
The Saturday night entertainment is being held at a pub near Arlington House, in Camden. Details of the Saturday night venue will be in your conference programmes – if you're planning on coming but you have a Sunday ticket, contact info@eroticon.co for details.
You'll be entertained with silhouette-cutting from Alison Russell, and close-up tricks from magician Daniel Barker. There'll also be lots of opportunity to chat to our Saturday night sponsor – Eropartner – who are there to show off the fantastic clitoral sex toy Zumio. There's a bar at the venue and they also serve food if you want to grab a bite to eat.
Feel free to come any time from 7:30pm. Entertainment will begin at 8 and will go on until about 10pm, and we've deliberately kept the entertainment informal this year rather than a sit-down affair so there'll be plenty of chance to chat to your fellow Eroticon attendees!
Can I bring extra people on the Saturday night? We're quite limited with space but we should be able to squeeze one or two more in – contact info@eroticon.co if you'd like to buy tickets for extra people.
Eroticon 2018 – dress code
There is no official dress code for the event, though some people have asked us for guidance before they pack, so here's what people usually wear:
– During the day (i.e. at the conference). Jeans, t-shirts, sweaters, skirts, dresses, trainers, heels.

– In the evening (i.e. at the social events). Sometimes people like to get a bit dressed up/glamorous. You're more than welcome to of course! But for those who might be nervous, it is not compulsory at all. The venues we're in are pubs, so as long as you feel comfortable in it at the pub, it will be perfect.
Eroticon 2018 – book stall
Victoria Blisse from SmutUK will be running a book stall at Eroticon this year, so do come and browse to see some of the great titles from SmutUK authors and from our own speakers at Eroticon! You can also pick up a copy of the brilliant Eroticon anthology – a collection of work from Eroticon speakers and attendees.
If you're speaking at Eroticon and you'd like to include some of your books to sell on the book stall, please do bring some along! You need to make sure that your author name, book title, and the price are written on a post-it note inside every book (every copy not just every individual title). This is so we can keep track of what's sold and money owed etc!
Eroticon 2018 – meeting people
The crowd at Eroticon is super friendly and you should be able to find lots of people to chat to! However we know lots of people are shy, so if you need a hand get in touch with our Eroticon ambassadors – we'll point them out on the Saturday morning, or ask one of the organisers to introduce you. You might also want to check out some of the online meet and greet posts (and write one of your own!) as that's a good way to say hello and meet some of your fellow attendees before you arrive at Eroticon.
Eroticon 2018 – sponsors
We simply couldn't run this event if it weren't for the generous support of our Eroticon sponsors. Please come and chat to, learn about and promote the brilliant companies that will be showing off their products over the weekend.
At the event itself, you can come and meet:
Also huge thank you to our delegate sponsors and supporters, who chipped in extra to the ticket pool to make sure that more people could attend.