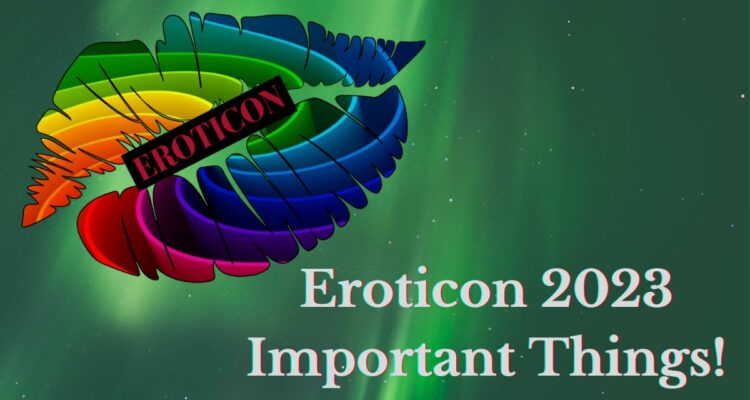 We are now less than two weeks away from Eroticon so here are some last minute important thingy-me-bobs!
Ticket Sales
If you have not already bought your ticket do not worry as there is still time to do so BUT the deadline is looming. Ticket sales will end at midnight on the 11.59pm on the 4th June. If for whatever reason you have found this conference after that date then you will need to email me to see if you can still get a ticket info@eroticon.co
Delegate Forms
If you have a ticket already please fill in the delegate form ASAP. I have emailed the link to all ticket holders but if you have not received it then email me info@eroticon.co. I do not want to post it here publicly otherwise I get hundreds of spam submissions.
You will need to know what your delegate name is in order to collect your badge.
Online Meet and Greet
Check out the online meet and greet posts (and write one of your own!) as that's a good way to say hello and meet some of your fellow attendees before you arrive at Eroticon.
The Schedule
As I said before there could be the odd change to the schedules which has indeed happened so please do make sure you look at the schedule over the weekend as that will be the more accurate version.
We have a packed schedule for the Eroticon weekend, with some absolutely incredible speakers. Some people like to spend the whole weekend in talks/workshops, others prefer to take a more chilled approach and go to a few favourites but give themselves time in between It's completely up to you, though we'd recommend taking at least one session's break each day to give yourself time to mingle, meet our sponsors and check out the fantastic books on the book stall.
We open the conference with a quick welcome and keynote to kick things off. After that, we split the main conference space up and the rest of the talks/workshops happen in different rooms.
There will be:
1 room for workshops (including KinkCraft demos)
2 rooms for talks (these hold around 20-60 people)
1 'chilled' room (this is a place that will have some chairs/tables for people to sit down/take a breather/work on their latest erotic story)
the sponsor area (this is the large corridor that connects all of the other rooms. It contains sponsor stands as well as the Eroticon book stall run by Victoria Blisse of SmutUK. It's a nice place to hang out and wander around – come along and chat to our friendly sponsors or browse the books!)
the quiet room – This is a silent space for anyone who needs to just get away from things. I will be available most of the time apart from the Saturday afternoon.
Toilets can be found in the main corridor near the sponsor stalls – toilets are gender neutral, please use whichever you like.
Smoking is not allowed in the venue, but you can smoke outside the building on the main street. If you'd like to remove your badge while you're outside, you need to put it back on when you return inside.
Accessibility – The venue (Arlington House) is accessible by wheelchair – there is both a lift and a stair lift that go from the entrance to the ground floor.
Lunch will be served in the main canteen, just off the sponsor's corridor. There will be people to direct you when lunch is served – a catered buffet lunch of sandwiches, wraps, crisps, fruit, cupcakes, that kind of thing. There'll be a separate area to pick up your lunch if you've requested dairy-free/gluten-free or other lunch options. If you'd prefer to go out for lunch, there are lots of restaurants/shops nearby in Camden.
Refreshments On each day of the conference there'll be tea/coffee breaks (marked on the schedule) where there'll be a choice of teas/coffee/decaf coffee etc.
Help and assistance is available from the registration desk, which you'll see when you first get to the conference (the desk where you collect your lanyard). There should always be someone (either an organiser or a volunteer) near the registration desk in the main corridor – they are your first port of call if you need anything, and if you can't find something during the weekend, please do ask!
Raffle Every year we run a raffle so you have the chance to win some of the incredible products that our sponsors have to offer. The raffle will be drawn at the end of the day on Sunday, so do make sure you stay with us for goodbyes and to see if you can take home one of the brilliant prizes that are on offer!
The Venue
Eroticon will be held at the lovely Arlington House, in Camden.
Nearest Tube: Camden Town (northern line). Also easily accessible from the Overground (10 minute walk from Camden Road or Kentish Town West).
Nearest Bus stop: There are plenty of buses that stop at Camden – if you're coming from Euston hop on the 168 or the 253, if you're coming from Kings Cross the 214 or the 46. This isn't an exhaustive list – there are quite a few buses! Here's a bus map for Camden Town.
Walking: Arlington House is roughly a half-hour walk from Kings Cross, and about the same from Euston, both of which are served by the Circle, Met and Hammersmith & City lines. Kings Cross is also served by the Victoria and Piccadilly line.
Arriving at the conference
As you enter through the main doors of Arlington there is a staircase over to the right. We are down there in the conference area. There is both a stair lift and a traditional lift if required. Please wear your delegate badge at all times when you are in the venue so that Arlington staff know you are with us.
If you wish to have coffee/tea etc during the first part of both mornings you will need to grab a cup from somewhere on your way to the venue. Coffee will not be served on either day first thing.
On Saturday the first coffee will be mid-morning and on Sunday it will be after lunch for the readings.
The Evening Socials
Links to info about both are below. I previously stated the outdoor area we have at the pub was covered but due to unforeseen circumstances we have had to move to a smaller outdoor area at the front of the pub. The up side we no longer have a minimum spend, the down side, it is not covered or as big. However we can spread out through the pub if we wish and there is space. On the Friday night I will be set up with the delegate badge in the front garden but feel free to use any part of the pub that suits you.
If you wish to order food then go for it but also be mindful of the fact that if everyone orders at once they won't be able to cope with an influx like that.
Please note unlike previous years we not have a private space that is just for us but only a reserved area in within the Lion and Unicorn.
Event and Covid Policy
Please take a moment to read through both. I am trusting people to do their best to keep those who are vulnerable to Covid as safe a possible. Also make sure you read the Event Behaviour policy, in particular the section about attendee privacy and identity.
Because so many of us are anonymous or pseudonymous, one of the most important rules of the conference is: no photos without express permission. To help people with this, when you get your conference badge, you'll be given the choice to wear a red lanyard or a black one.
Red lanyard = I don't want to be in photos.
Black lanyard = I don't mind being photographed.
While we cannot guarantee anyone's anonymity, we can do our absolute best to make sure that people follow this rule. There is more info on anonymity and events here.
Everyone must wear their badge at all times when inside the venue (this is to help venue staff as well so they know not to let anyone just wander in off the street), and abide by the rule on photos. If you'd like to take selfies or pictures with our sponsor products – that's great! It is fully encouraged! Just please be aware of the frame of your shot, and make sure there is no one in it who has asked not to be photographed. While people may not be wearing their badges when they're out and about (and at the social events), the rule still stands: no photos without express consent. That means you need to ask, and receive, confirmation from everyone in shot before you take a photo.
Book Stall
Victoria Blisse will be running the Eroticon book stall again this year so you can stock up on some delicious reading but if you are an author who would like to sell copies of your own work at Eroticon then you can do that on the book stall too.
The Swap Shop
Please make sure every copy has a post-it note attached with your name and how much the book costs. Victoria will collect any money for you and return it to you at the end of the day with those post-it notes.
If you want to sell your item please make sure that is clearly marked on the item, including how much you want for it and how people can get in touch with you. I suggest a social media handle but email or phone number is fine too. It is totally up to you.
If you item is for swapping then you need to mark on it what you would like to exchange it for.
If your item is 'free to good home' then mark on it 'no exchange required'
The table will be unmanned and so will operate on a trust basis and you leave stuff there at your own risk.
Dress Code
There is no official dress code for the event, though some people have asked us for guidance before they pack, so here's what people usually wear:
– During the day (i.e. at the conference). Jeans, t-shirts, sweaters, skirts, dresses, trainers, heels. Clothes that you feel comfortable in
– In the evening (i.e. at the social events). Sometimes people like to get a bit dressed up/glamorous. You're more than welcome to of course! But for those who might be nervous, it is not compulsory at all and many people will wear what they wore during the day to the evening drinks too.
Contacting me during the conference
From the Friday morning until Tuesday 13th June the eroticon email address will not be manned. If you need to contact me urgently then do so through the Eroticon Twitter or Instagram accounts. Links to both at the bottom of the page
That, I believe, is that… If you think I have forgotten something important please do let me know, either in the comment below or email me info@eroticon.co
See you soon Eroticoners!
Author, Blogger, Photographer, Speaker. Director of Operations for Eroticon